S E X T O R T I O N
Sexual extortion or "sextortion" can take many forms. Through various ruses and exploits, victims are lured to share compromising images or engage in compromising conversations. Girls and women are often extorted to produce more sexually explicit pictures, while boys and men are commonly extorted for money.
The rise of technology and the internet has brought about numerous benefits, from easy access to information to the ability to connect with people from all over the world. However, it has also opened up a darker side, with one of the most troubling being around online predators and issues like sextortion.
Sextortion is a cyber crime involving threatening or blackmailing someone into performing sexual acts or sharing explicit material often times for monetary gain.
Watch this video from Amaze.org that explains what extortion is and common tactics.
We are hearing more and more stories in the news like the tragic story of 15-year-old Kaitlyn Yozviak from Georgia, who died by suicide after being the victim of a sextortion scam. These stories highlight the seriousness of this issue.
According to ABC News, Kaitlyn was tricked into sharing explicit images and videos with someone who pretended to be a boy her age. The scammer then threatened to share the material with Kaitlyn's friends and family if she didn't continue to send more. Kaitlyn was overwhelmed and terrified, and eventually took her own life.
This heartbreaking story is not an isolated incident. Sextortion has become an increasingly common crime, with perpetrators often targeting vulnerable individuals, such as teenagers and young adults. They use tactics such as catfishing, where they create a fake online identity to gain the victim's trust, or phishing, where they trick the victim into providing personal information.
The FBI has seen a huge increase in the number of cases involving children and teens being threatened and coerced into sending explicit images online—a crime called sextortion.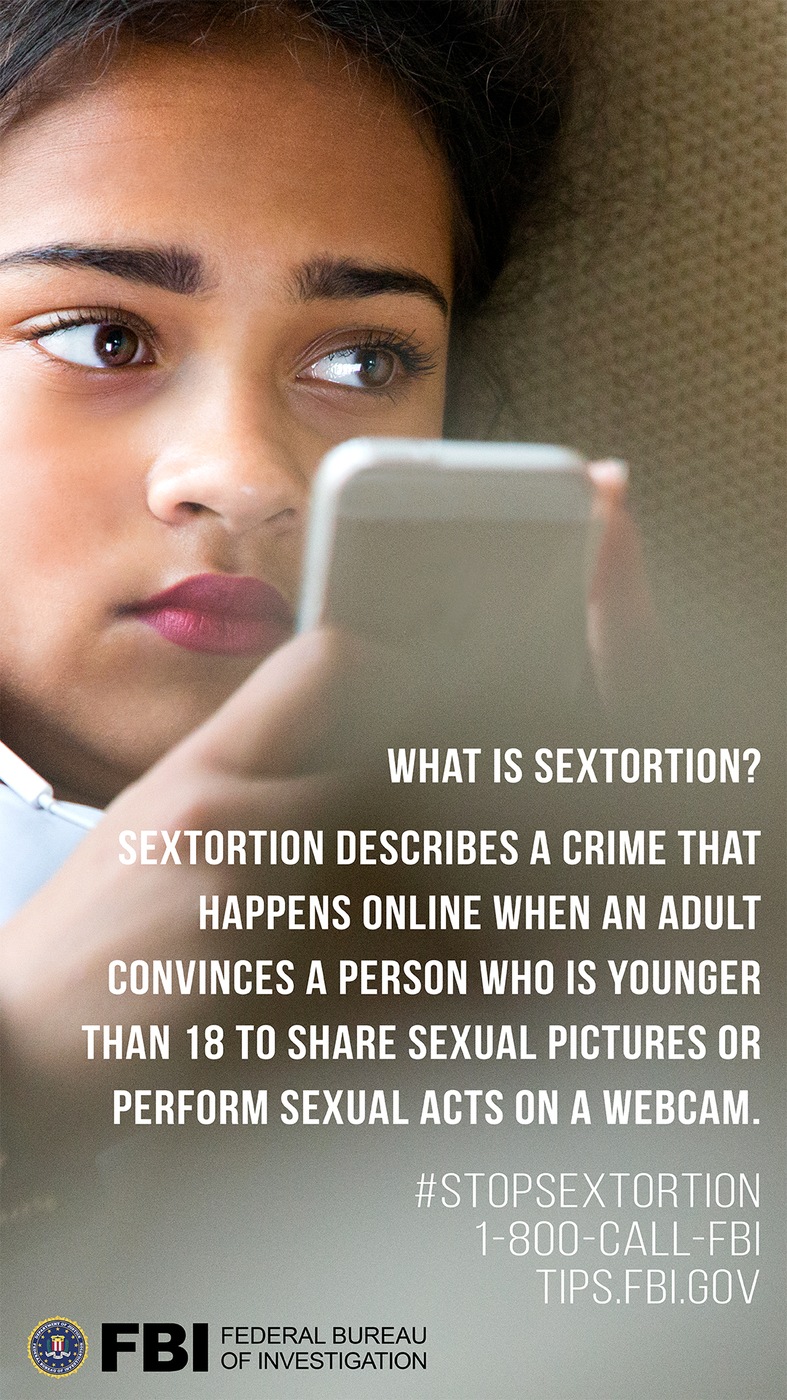 Why don't the victims tell

someone or ask for help?
The cycle of victimization continues because children are afraid—afraid of the repercussions threatened by the criminal and afraid they will be in trouble with their parents, guardians, or law enforcement. By the time children are victims, they have done something that may be generating feelings of shame and embarrassment. The criminal may also be telling them they have produced child pornography and will be prosecuted for it. In addition, they may fear their access to their phone or computer will be taken away from them as a result of their actions.
So, what can we do to protect ourselves and our loved ones from falling victim to sextortion? Here are some important tips to keep in mind:
Be cautious about sharing personal information online. Never share your personal details or intimate images with someone you don't know or trust.

Use strong passwords and two-factor authentication. Make sure your passwords are difficult to guess and enable two-factor authentication wherever possible.

Be vigilant about phishing emails and scams. Be wary of unsolicited emails or messages from strangers, and always verify the identity of anyone asking you for sensitive information.

Use privacy settings on social media. Make sure your social media accounts are set to private and only share your personal information with people you know and trust.

Report any suspicious activity. If you believe you have been the victim of sextortion or any other type of cybercrime, report it to the relevant authorities immediately. Organizations such as the National Center for Missing and Exploited Children (NCMEC) offer resources and support to those who have experienced online exploitation or abuse.

If young people are being exploited, they are the victim of a crime and should report it. Contact your local FBI field office, call 1-800-CALL-FBI, or report it online at tips.fbi.gov.

The FBI also has staff dedicated to assisting victims of crime. Learn more about our Victim Services Division and know your rights if you are the victim of sextortion and your images have been posted online.

Talk to your kids about common tactics perpetrators use such as:

saying you should be a model or that they work for a modeling agency
get intense quickly and say how you are soulmates
need money or demand money
Here are three 30-second conversations you can have with your kids or kids you know.

The New Version of Don't Talk to Strangers
- When you're online, has anyone you don't know ever tried to contact or talk to you?
- What did you do or what would you do if that happened?
- Why do you think someone would want to reach a kid online?
- You know, it's easy to pretend to be someone you're not online and not every person is a good person. Make sure you block or ignore anything that comes in from someone you don't know in real life.

The Power of a Picture
- Has anyone you know ever sent a picture of themselves that got passed around school or a team or club?
- What's possible anytime you send someone a picture?
- What if that picture were embarrassing?
- Can you think about how someone could use that kind of picture against a person?

I'm Here to Help
- I read an article today about kids being pressured to send images and video of their bodies to a person they met online. Have you ever heard about anything like that?
- Sometimes they were being threatened and harassed—scary stuff.
- You know, if you are ever feeling like something is going on—online or off—that feels scary or wrong or over your head, my first concern is going to be helping you. You can always come to me.
Sextortion is a serious issue that we all need to be aware of. By following these tips and talking with our children early and often we can help to prevent these crimes from happening and keep ourselves and our communities safe online.
You've got this parents!